February 2021
It may be cold and icy outside, but we are dreaming of the warmer weather and a NICA season coming up! 2021 is shaping up to be a great season! We are confident we will have a full schedule of racing in the fall.
Mark your calendars for our fall race event weekends!
August 28 – Prelude Time Trial
September 11-12 – Race 1
September 25-23 – Race 2
October 16-17 – Race 3
October 30-31 – Race 4
Spring is the time of year when we focus on coach training, and this year is no different. We have two coach retreats in March and April where returning coaches will be able to sharpen their skills and develop further as coaches. We are delaying our in-person leader's summit until June so we can host a larger gathering outside in more dependably warm weather. More info can be found below.
Ride Safe and Happy!
Kyla, Terry, and the Arkansas Team
Outreach Events
Terry and the outreach team have been hard at work in the off season answering questions and helping new communities understand about NICA. We have new teams forming in:
Vilonia
DeQueen
Clinton
Crossett
Pulaski Academy
Cabot
Virtual info session dates:
Vilonia – February 16, 7:30 pm
Clinton – February 23, 7:30 pm
Crossett – February 24, 7:30 pm
Any community – February 25, 7:30 pm
Visit Arkansasmtb.org/calendar/ for the links to join the virtual meetings.
Coach Training
Spring is about Coach Training in Arkansas NICA. Our coaches are at the core of everything we do. This group of involved adults makes a huge difference in the lives of student athletes across the state.
Are you a coach yet? You should be!
NICA National is hosting online Leader's Summits this winter – a great way to get an introduction to NICA coaching. Click for more info.
Coach Retreats – These are happing in NW Arkansas and Central Arkansas , targeted to returning coaches to take your coaching to the next level. First Aid and OTB 201 will be offered.
March 6-7 – Park Springs Park, Bentonville
April 10-11 – Mount Nebo, Dardanelle
Cost is $125 with first aid, $35 without
Leader's Summit – Our yearly coach conference.
June 6-7 – Thaden School, Bentonville
Registration coming in March.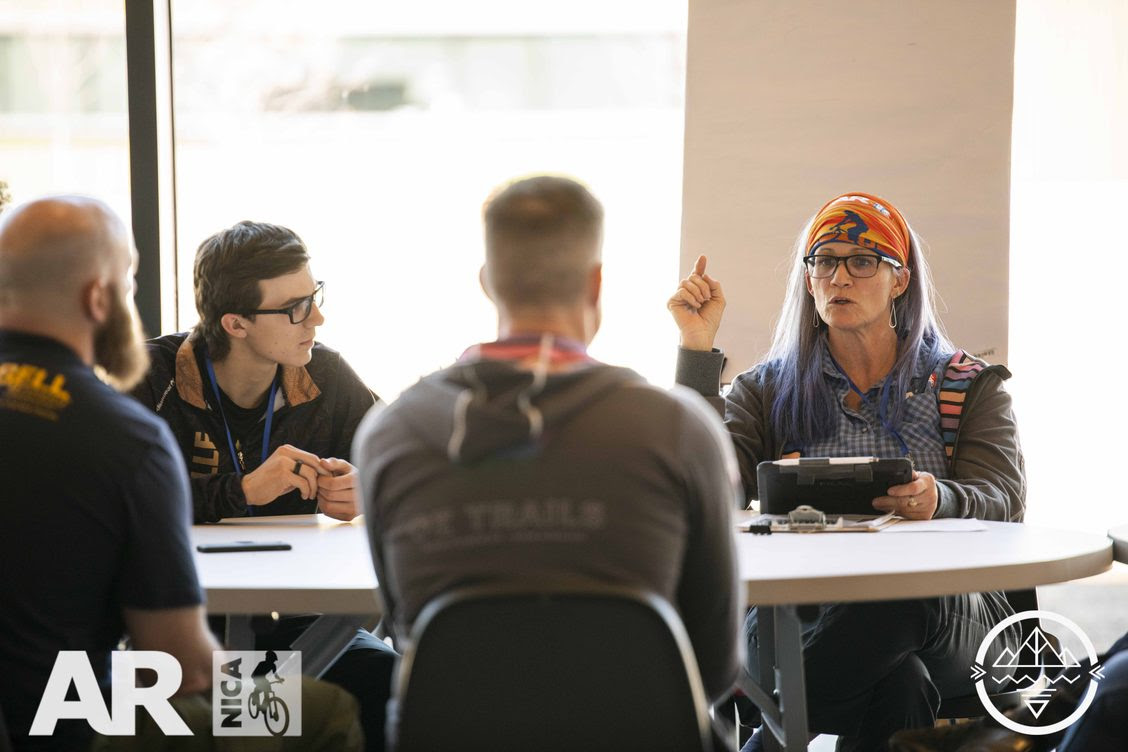 Service Leadership
The Arkansas NICA League is committed to building strong bodies, minds, and character in student-athletes by leading through service for individuals and teams.
It's so important to us that our race season awards include bonus points for individuals for service hours and half of our team award is based on the service hours for the whole team. For specifics, you can visit the Arkansas Appendix in the NICA Handbook. Students have two choices for how to earn the bonus points:
Complete 10 bike-related service hours. This can be done through your team or through other organizations, such as OORC, CATA, BikeNWA, FAST, etc.
Complete NICA's Service Leadership Development Program, Teen Trail Corps. Student athletes will work toward earning 4 badges to complete their Teen Trail Corps Captain Badge.
Arkansas NICA has a goal of completing over 6,000 service hours in 2021.
Now is the perfect time to start working on service hours!
Service Hour Opportunities

OORC – Gregory Park Trail Love. Saturday, February, 13, 8:00-12:00 pm
This will be a maintenance day to fix wet areas and downhill lines.
Wear gloves, sturdy shoes, bring hydration and a snack.

OORC – Kessler Trail Love. Sunday, February, 20, 8:00-12:00 pm

OORC – Baker Hayes Trail in Pea Ridge, Saturday, February 27, 8:00-12:00
We'll be clearing corridor on a connector. The trail is located off Greer St near the intersection with Perkins/Hwy 72. Wear gloves, sturdy shoes, bring hydration and a snack.

More to come!

Teen Trail Corps Workshops

TTC SERVE Workshop, Slaughter Pen, February 28, 12:00 pm – 2:00 pm
Introduction of TTC Program and specifically how to lead a Serve event for your team.

TTC SERVE Workshop, Conway, March 20, 12:00 pm – 2:00 pm
Introduction of TTC Program and specifically how to lead a Serve event for your team.

TTC RIDE Workshop, April 12, 7:00 pm – 8:00 pm, Video Call

TTC SPEAK Workshop – May 10, 7:00 pm – 8:00 pm, Video Call

TTC RESPECT Workshop, June 14, 7;00 pm – 8:00 pm, Video Call

Links for the video calls will be available on the Arkansas Events Calendar.
Copyright (C) 2021 Arkansas NICA. All rights reserved.
Arkansas NICA
PO Box 1145
Bentonville, AR 72712-1101